5
minutes
Indeed I am, and if the pictures on Flickr are any indication, we indeed had an awesome time there. It was quite a volte-face from the last time around, when I had fallen ill, and it had really ruined my time there. But well, nothing of that sort this time (though the same cannot be said of Skippy-boy). Although it was great, I just missed my Rissa ever so much, feeling just at odds, without her by my side, to share the experiences and just enjoy a new place together. It did feel so disquieting. But I did manage to keep her informed, by snapping pictures with my iPhone and uploading them immediately to Flickr via the awesome Pushr.app.
The lectures were all the same, and not too informative, but a few of them shone – in particular that of Scott Wilson's on the final day. But I guess what I enjoyed most was the socializing aspect – getting to know people, and interact with them.
Well, let's recap. On Sunday we reached Innsbruck after a long trip (Heerlen – Eindhoven – Rotterdam – Innsbruck – Igls). Immediately upon arriving we (The Namesake, Danish, Skippy Boy and I) set out to explore the wooded regions around the Grillhof. A number of pictures from the 17th stand testament to the time we had. We were joined by a couple of people on this evening – Sebastian and Anna from Wien, and the Scots. Dinner was lackluster and after a round of Stroh's 60 produced by our very own Butt-slapper (or Martin as he prefers to be called), we called it night.
Monday was where it was at. The bulk of the participants joined in, and there was the usual round of introductions, official and unofficial. A number of lectures on the PCM, etc. After lunch we guys (Marco-Blondie, The Namesake and I) went for a long walk up to the lake which we found quite by chance. The Namesake and I had a grand time, going shutter crazy! The evening was fun – a social event during which I broke my moratorium on Weissbier consumption and consumed around four along with the Namesake. It was fun as the guitar was brought out and everyone tried their hand at strumming and singing, albeit without success. *heh* I am told I am rather rude. It was a grand evening indeed.
Tuesday was a day the Namesake and I had resolved we would try and miss as much as possible. Though we did manage to live up to a part of the deal, it wasn't all rosy. We both worked and managed to attend a few, as we worked. The fever pitch at the WS-2008 was rising as the next day would be the Winter school key event – Sports activities! Since the Namesake, Danish and I had planned for the sledding event, we stuck to the background, enjoying as the others missed lectures, and dinner. Oh poor souls. The social event to which I was pulled yet again, seemed the same, with cacophonous music and beer. Talked and joked around with Anna, Skippy-boy and the Namesake as we mingled and milled around.
Wednesday and what a day! I almost never have laughed so hard, or have been scared for my life! This of course alludes to the sledding day! The Namesake, I, Danish and Enrique forged a bond of men, as we sledded down the DEEP incline! Of course nothing comes easy and there were mistakes a plenty, one of which had the Namesake hurtling down the mountain his arms flailing, him shouting "oh f*ck" as he hurtled with the help of good ol Newton, on his sled. I doubled and nearly fell down, laughing my ass off. Till now that memory of the Namesake flailing around as he hurtled half-way down the mountain, really makes me laugh my butt off. Well done m8!
Thursday was a slow starter, as many complained of aches and bruises from last evening's adventures. This was the busiest day so far for me. I met quite a few people involved in research related to my topic, and expressed interest in being part of my project pilot. It was sure quite refreshing to receive affirmation of the work that I have done, and the path I follow, not to mention the depth of my knowledge in my field. Unfortunately, Skippy boy took ill this day, and couldn't join us for any of these classes/events. I was quite interested in the hands-on 4C/ID demonstration by Iwan Wopreis, however I did give up after the first session when I couldn't really find a fit with my research goals. We all assembled after classes in Innsbruck city for a night of drinks and farewells, at the Irish Pub. We nearly managed to convince Anna to join the OU *ha ha*.
We started back after a round of goodbyes and last impressions on Friday. Scott Wilson gave a terrific lecture on OpenID, etc. and led me to register on Twitter almost immediately. A group photo at the end, summed up the 'gezellig' nature of this event. One we shall almost never forget! A long, winding road brought us back to Heerlen, ever so tired and ever so weary!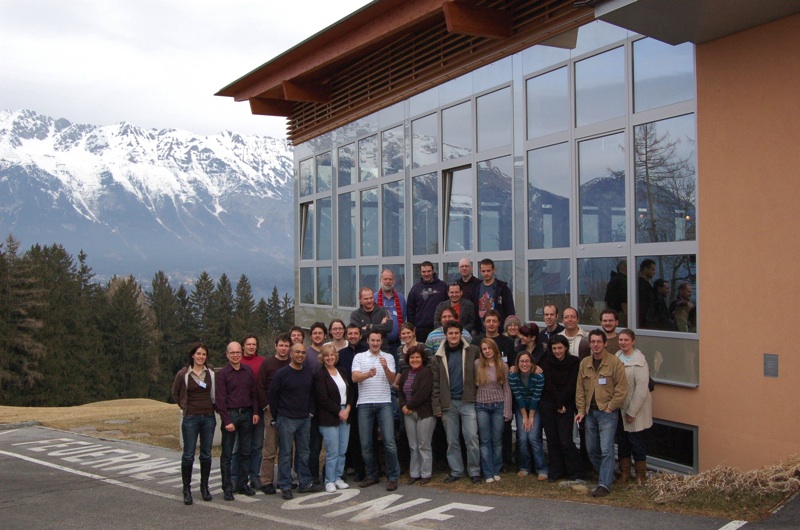 PS: To search for pix of the event (other than mine), do search for tags : Winterschool, Winterschool2008 on Flickr.