3
minutes
For the unlucky few who don't have SVN (Subversion) repositories set up for them: hosting one's own SVN repositories might be the only solution. While Leopard ships with Apache2 and SVN support, enabling and configuring the same is tedious. This site walks through the entire process.
For my needs though, I chose Versions, a commerical SVN frontend that makes setting up multiple SVN repositories easy and quite straightforward. In my case, I set up a local repository, pointing the location to a folder on my RAID drive. And that was it!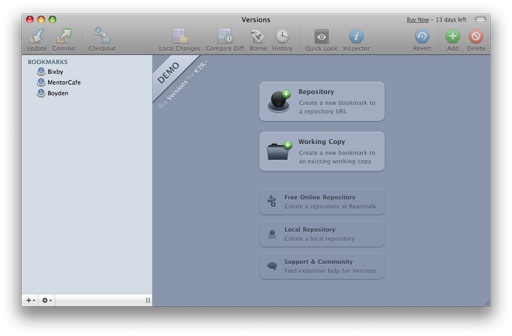 Editors on a Mac are always a hotly contested issue on which no two programmers usually see eye-to-eye. Some prefer the simple elegance of vi, while others prefer the bells and whistles offered by editors like Coda, while some still would prefer the Eclipse route for nearly all their programming needs (lord knows why – the namesake will confirm). I fall in the bells and whistles category, and have alternated between Textmate and Coda – both prime editors. Textmate is clearly more powerful of the two, however setting up an SVN repository on the same is more a hassle, than on Coda.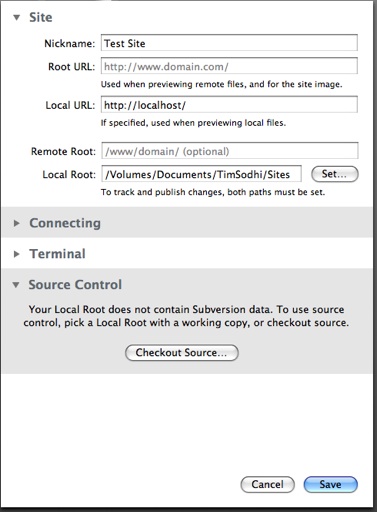 Panic's Coda is a beautiful, and powerfuleditor, and like Panic's other products – Transmit and Unison, very OSX in it's look and feel. What's more – it features SVN support right off the bat. To this end, one needs to set up a New Site within Coda (it doesn't work otherwise, trust me). Fill in at least one destination, I suggest Local URL (a dummy location like http://localhost/) and the local root (where the files will be stored). Click Checkout Source and point it to the location of the folder where the SVN repository was created with Versions app, and Bob's your uncle.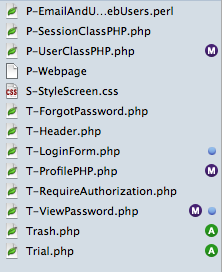 A note though – for some reason, committing/update/modification may not work the first time the site is created and the working window brought up. To make it work just restart the app.