3
minutes
Let me say this at the very onset – I was never a Firefox fanboi. I really depended upon IE for my development/browsing needs – on Windows of course. Joining my current organization, I got weaned away from my dependence on IE, and rediscovered Firefox after a gap of nearly 3 years. And so it began. After I purchased my first Mac, and converted my POD Box (Plain Old Dumb) to a Mac it was on to Firefox for good. I have loved FF for the convenience and the plethora of plugins it offers to make day to day tasks easier. I don't wish to feed the trolls here, but over time I have discovered that FF is a much more well rounded browser and most compliant with Web Standards. Don't believe me? Go try out the ACID3 test on any browser other than FF and Opera. You'll get my point.
But today after my Internet connection was restored (after a Telfort muckup), I discovered that most of the plugins I depend upon for my browsing needs (AdBlock, Fire Gestures etc) have been updated for FF3.0RC1. There simply was no reason not to switch to FF3. And dear me, what an immense pleasure it has been thus far. The AwesomeBar is just that, Awesome! I have been tagging my existing bookmarks and squeal in glee when just entering a tag, I can see the list of bookmarks load immediately. This is simply perfect! No longer do I need to organize my thousands of bookmarks by Folders and Sub folders and worry about a bookmark that belongs in two categories. Ok I realize I am ranting, but this is significant for a dweeb like yours truly. Add to that the update of the look and feel to the native OS (Firelight for OSX) has given Firefox a much needed facelight. Beautiful.
AND on top of that, the blazing speed of this browser, especially when it comes to handling JS. I have been trying out the Web Authoring tool I developed back in March, which if you recall makes heavy use of JS for UI generation and drag-drop metaphors. The good news is that the little bit of lag I noticed with FF2 is a thing of the past. Not only does the app look gorgeous, it performs the way I always envisioned. I couldn't be more pleased.
Well off to experiment a wee bit more. Cheers.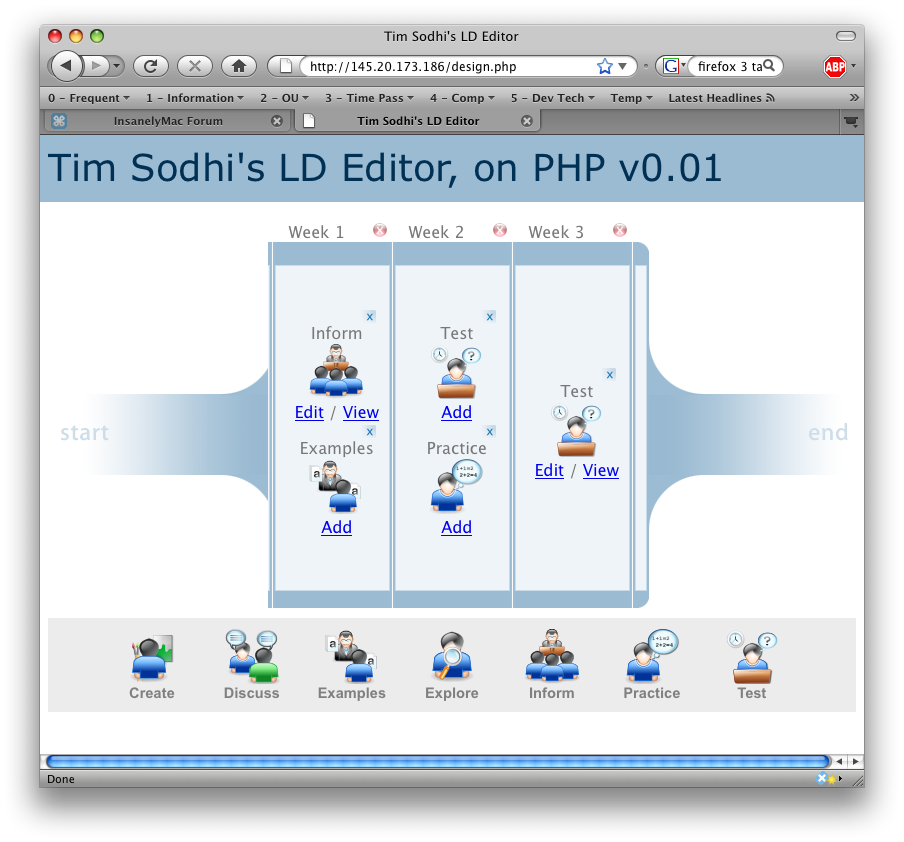 PS: What would a post on FF3 be, without the mandatory screenshot?