2
minutes
For the longest time I resisted RSS feeds, dismissing them as too cumbersome to keep track of, and rather too concise for my needs. Over time though, with the plethora of sites I keep track of, not to mention the trackers and feeds for breaking news on CNN, BBC, I decided to make the shift to RSS. I toyed with subscribing to individual feeds in Firefox, but soon gave up on that idea. With around eleven feeds, I couldn't keep a history of older feed stories, as well as, mark them as read/unread. I looked to Apple Mail, but apart from a marginal improvement from Firefox (in terms of history), I didn't see a benefit.
Enter Google Reader. It does it all, aggregate feeds into one feed, and allows for a history as well as marking the same (starring in Google terms). I can access my feeds and read/unread status from any computer/device. Wonderful, but only restricted to the actual GReader site. That was until I found Socialite (formerly Eventbox).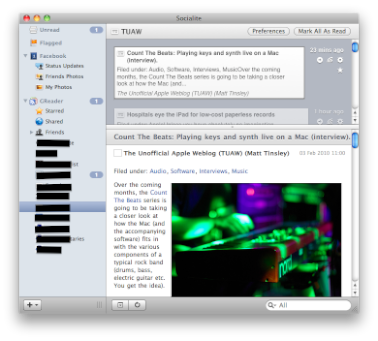 Socialite supports Google Reader in it's entirety, allowing one to subscribe to a feed from the client, unsubscribe, mark as read/unread, star/unstar, etc. With Growl support, this is by far the best Google Reader RSS feed client for the Mac. What's more, this client integrates support for various social networking APIs such as Facebook, Twitter, etc. A definite MUST try.