2
minutes
Never thought it would come to this! How COULD you Digg! See and experience the awesome power of the Digg community when the echelons try to impose censorship! This is what results: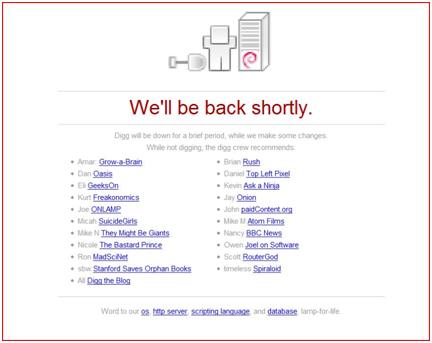 So proud of my community, a community that stood up, looked the Digg-echelons in the eye, and calmly screamed out "NEIN". Kudos to you fellow Diggers!
Developments over the past couple of hours have in effect, led to Kevin Rose, the founder of Digg, to issue this statement. Digg is back! No more articles posting the key shall be censored! An awesome show of strength by the Digg community! I could not be more proud.
The night of 1st May, shall go down in History as the night the Digg users came in strength, flooding it with all sorts of articles (imaginative and otherwise), containing "The Key". A blog rightfully claimed, that the HD-DVD key is an example of the 21st century's digital revolt. It is indeed an honor to be an enlightened netizen today. Never has the community come together in defiance of a conglomerate, be it RIAA, or MPAA, as we did against the censorship policies of Digg. It is an amazing feeling to be a part of this, today.