3
minutes
I was telling Rissa this, in merry jest the other day. She mentioned in passing that there'd been a long delay between posts on my blog of late. I reflected for a moment and the best answer I could surmise was that indeed, the frequency of my blog posts increases exponentially when I am working on a Mac. Somehow working on the OSX platform brings out the Blogger in me. It is not only true for blogging but nearly everything. I feel I am much more productive using a Mac, than I am on Windows. I am not sure whether it is the aliased fonts or whether it is the lack of distractions on a screen, OSX just brings out my productive half.
Lately, I have been using Renamer4Mac to *ahem* rename  files on OSX. It is one tool I have found nearly indispensible on OSX, and have never found a Windows equivalent that can remotely come close to the functionality it provides. It supports the use of regular expressions to weed out incomprehensible characters from a batch of files. Sure you can do it manually, but suppose you download a large number of files from the Usenet and need to rename them to something comprehensible. What if the files have a large number of chars  that have a lot of spaces betwixt the same? Renaming over a large corpus is repetitive and foolhardy. Windows can't do it, even with the relatively hidden hack (F2 while selecting them all). R4Mac, however works on a Search and Replace principle, and does the job amazingly well.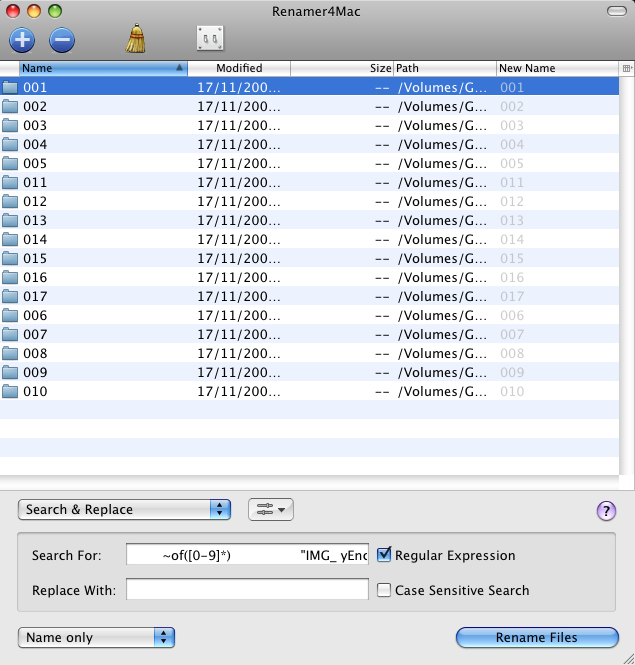 I am happy to report that all is well on the OSX front! After the installation last evening, everything works exactly to spec, and I could not be happier. The Namesake remarked in a previous post and it is true! HSP and I have just become so embroiled in "the scene" that most of the terminology comes as second nature to the twain. It is indeed most entertaining. I find myself scouring the forums and IRC for latest developments in my spare time.
One last remark. I have been working with Spaces now exclusively. It is amazing how Leopard has implemented this concept. It is rather VERY intuitive. I find myself allocating screens to specific Apps, and jumping to them by just clicking on their icon on the Dock. Works like a charm, and just so very intuitive.
Laters folks!