4
minutes
Not a how-to A lot has happened in the OSX86 world. From its humble beginnings back in 2006, when it was the playground of the extremely talented few, and OSX installations were wrought with issues, to the "boom" period when large number of "distros" were the call of the day, and industrious users created their brand of 10.5 flavors for the masses. iPC, iAtkos, iDeneb, and others will be familiar to anyone who has expressed interest in installing OSX on their non-Apple boxes. Where it once was the realm of the adventurous few, it became the turf of every person with the Apple gleam in their eye. And now, when installing retail OSX is the cool thing to do.
No "distros", no flavors, just plain vanilla OS installed directly from a retail Leopard DVD (10.5.6) bought from the Apple Store. That is the project I decided to undertake this weekend. Laid low by chronic back pain and neck muscle ache, I decided to sit back and take the hours out to install retail OSX on my system that I built back in 2007. A few specs:
Gigabyte GA-965P-DS3 ver. 3.0 Motherboard
Intel Core2Duo E6600 CPU (OC'd to 3.6 GHz)
4 GB of DDR2 800 MHz RAM
SATA-2 HDD's 4.0TB in AHCI
S-ATA DVD/CD Writer LiteOn
XFX nVidia 7600GT (512 MB)
Gateway FPD2485W S-IPS LCD
Apple Aluminium Keyboard
Logitech MX Revolution Mouse
Here is a list of things I did need.
A retail Leopard DVD. I used 10.5.6.
Boot 132 Disk for your system or a generic one.
Chameleon Bootloader 2.0 (RC1) or better.
KEXTs for your graphics card (you can go EFI strings later).
A LOT of patience.
The basic challenge is that Leopard won't boot on a non-Apple machine without some coaxing. Enter the Boot 132 disc. I won't go into details, but basically you can create a flat DMG with the KEXTs in a folder and the Boot 132 bootloader will load them for you at boot time. KEXTs are kernel Extensions that allow extended functionality to be added to the Kernel without the need to compile all the extensions for devices, etc., directly in the kernel. Boot 132 allows KEXTs for non-Apple hardware to be loaded at boot time and extend the base Apple kernel so that a retail Leopard DVD can be booted. More details here.
Here's how I went about the installation. I inserted the Boot 132 disc and on being prompted, the retail Leopard DVD. The Installation was straightforward, and understandably the OS installation gave a "Failed" notice at the end. This is because a bootloader hasn't been installed on the OSX partition.
Next up, I booted from the Boot 132 disc, but chose instead to boot from the newly installed OSX Partition. Leopard welcome and setup screens later, I was in! I didn't have QE/CI though, as I hadn't yet edited the com.apple.boot.plist with my EFI string (easily extracted via GFXUtil). I quickly installed Chameleon 2.0 (RC1, as RC2 just doesn't seem to work for me) and copied a whole list of KEXTs to the /Extra/Extensions folder, and com.apple.boot.plist to /Extra. These are the KEXTs I used.
AHCIPortInjector.kext
AppleACPIPlatform.kext
AppleAHCIPort.kext
Disabler.kext
dsmos.kext
IOAHCIBlockStorageInjector.kext
IONetworkingFamily.kext
OpenHaltRestart.kext
SMBIOSEnabler.kext
UUID.kext
I deleted the Extensions.mkext in that folder, and corrected the permissions.
sudo chown -R root:wheel /Extra/Extensions; sudo chmod -R 755 /Extra/Extentions
Rebooted, and this one's important – typed in -v -f to force compile the KEXTs at the Chameleon Boot screen, and voila, Bob's your chum!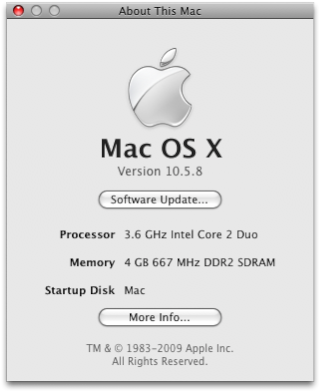 I did however have to install AppleHDA.kext manually, as it can't be copied to the /Extra/Extensions folder (due to multiple dependencies). I am just so impressed with the performance and stability. Uptime of three days and counting. Again, this is not meant to serve as a how-to, but rather a brief insight into the installation process. . Bring on Snow Leopard!