3
minutes
I am quite pleased to report that all is well on the Powerbook front! Things could not be any better, and though the German keyboard takes some getting used to, I am well on the way to "Nirvana" land.
The trip to Aachen-land almostg did not happen! CCC was unforthcoming regarding the status of my 2x1GB SO-DIMMs, that I had ordered on their website on Wednesday. An email informed me this morning that they had to "nachbestell" it. They promised to call by 15:30. I started getting dressed for Aachen, but they hadn't called by 15:00. As I was chatting with my dearest Rissa, de Jong dropped by. The plan was that he'd accompany me to Aachen this day, but since I was getting delayed, he decided to forgo the plan and stay in Heerlen.
Unable to wait any longer, I finally called up CCC and they informed me that the SO-DIMMs hadn't been delivered by then, and that I should check on Monday. Words cannot deem to express how pissed I was! But as I was looking for alternatives, they called once again and informed me that the items had been earmarked for me, and that I should come by! I almost ran to the station. 2 hours later at 20:00 I finally was back in Heerlen!
The installation of the RAM went without a hitch, and I restarted the installation of Tiger on the PB! And now, after having installed all the software and rebooted and restarted my WLAN, I am BACK on a Mac baby! How amazing is this, to be able to work on a Mac on my couch!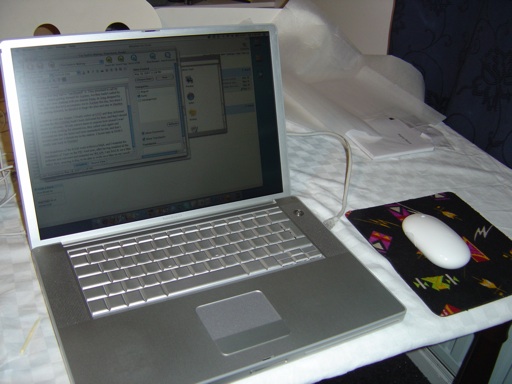 There ya go, for the more obsessive amongst you! That's the latest picture of me PB, with an Apple Mighty Mouse (Bluetooth) right alongside! Doesn't it look pretty!? One thing strikes me though. All this hype around C2D MBPs and MBs, I can attest to the fact that the PB works just as fast as the MBP I owned previously. It is inexplicable, especially since Apple claims many-fold speed increases. Oh well, they are just batty, I am now starting to believe.
Rissa's gone for the weekend to her Sister's, and it is rather so disquieting to be spending a night all alone, without her company, and her sweet words. Is it insane, that I miss her incredibly? But before she left, last night we did get to plan the itinerary for my trip! It just seems a matter of time before I am with her again. Meanwhile, I just wish she were here with me :) Sweet Rissa, I miss you my babe!
In other news, I found out that Zee Cinema, Zee TV not to mention Alpha Punjabi, are all FTA! I have watched three flicks already! Ha ; )
Well time to finish watching "Batwara"