3
minutes
Day IV of the Fréjus and French saga. It was with that we woke up this morning and unfortunately, the weather outside soon dampened our hyper spirits. The skies were overcast, and rain just seemed imminent. We trudged through, once again, from somnolence to coffee and back again. The only high point of our day is the time we get to eat dem Croissants. Lekker! Heerlijk so!
The lectures this morning were just overly loud, and interesting to an extent. The authoring approaches mentioned and discussed seemed a wee related to my work at the OU. Though the best part of this trip has been the interaction with the peers, people working on LO repositories and ontologies. It has been a very fruitful endeavor indeed, finding people interested in IMSLD and educating them on the benefits and the modeling approaches in our great OUNL output.
The bus to St. Tropez left with us at 6:00 PM sharp. The bus ride was rather uneventful, though I just kept looking out for Pizza places and the namesake felt as if he would upchuck. I told him to do that on a German, as there are so many here, and they are easily replaced in the Summer school, but there is a dearth of Indians!
We got to St. Tropez which is apparently the playground of the rich and famous, and has been known to house celebrities like Pitt, Clooney, and the like, none of who did we see this day. Our destination was the restaurant "La Piscine", and I was so apprehensive, what I would get to eat at this über-french restaurant, being a vegetarian and everything.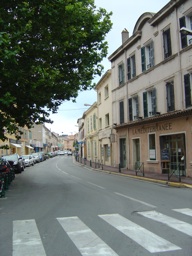 I sat with Amine sir, my supervisor from the days of Masters in Aachen, and what an evening we had! An evening that shall go down in the annals of history. Never in my dreams could I have imagined Amine sir to be as much fun as he has been in this trip! We have had the best time getting to know each other as pals rather than a supervisor and tutee! We talked of my Rissa, his life before Aachen, and just doubled over laughing and kidding around.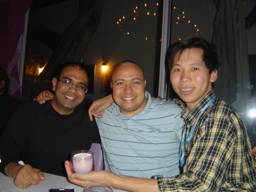 But that brings me to the food! Never could I have imagined I would get edible food, vegetarian food at that! But amazing at the gourmet food they served up! I was left licking me fingers. We walked to the regatta and looked at the playground and the ships of the rich and famous. Photos of course, on Flickr.
The ride back, it started raining down, and then some! It was very to be how you say eet, pissing off! We got back in Fréjus, and well, that was that, no party this night as everyone ran for cover.