2
minutes
I recently upgraded my main OSX HDD to a Corsair F120GB2 SSD. Boasting a Sandforce controller, which in absence of TRIM (or in addition to), performs aggressive Garbage Collection (GC) on the SSD, this particular SSD caught my interest because of the best transfer rates in its class. The Sandforce controller made it a viable choice for OSX as well. When I saw it on sale at Newegg, with a huge Mail In Rebate (MIR) I jumped on the bandwagon.
I cannot stress how much of a difference an SSD makes. I used to dismiss the claims, reasoning – once the programs/apps are open, it is all the same, but dear me, from boot up to fully working on the desktop in 17 seconds flat. It is no mean feat. Corsair F120 is simply amazing!
However, one does have to tread carefully in the absence of TRIM. All the whitepapers and reviews I read seemed to point unequivocally at 20% provisioning for a non-TRIM GC Sandforce drive. For a 120GB capacity it translates into nearly 24GB. In other words, the drive must never be over 80% of its capacity, lest the slowdowns begin. TRIM, is a MAJOR requirement.
Devs noticed TRIM support for Apple branded SSDs in Apple's newest OS in the making, OS 10.7. It seemed that we'd have to wait till June-July 2011 for this feature. But alas, with the advent of 10.6.7, we are finally there! TRIM can be made to work with non-Apple branded SSDs. It requires one to run a simple app (no more scripts) made by
Groths
. It worked flawlessly, on the first try.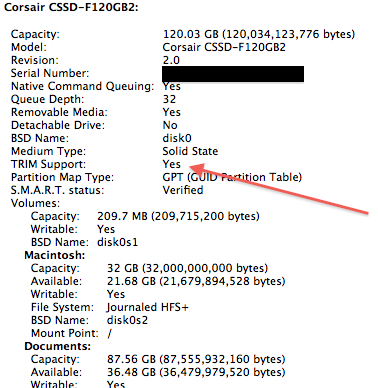 A few caveats – I haven't yet tried to stress test my SSD to see whether TRIM has made any real world difference. Additionally, since this relies on KEXT changes in /S/L/E, it is conceivable that on the next update from Apple, this change is overwritten. In any case, will keep you guys posted. For now though, enjoy seeing a "Yes" next to TRIM support.